Savage Yards – Also for Artists!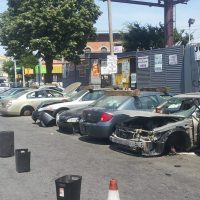 Did you know that a lot of artists visit salvage yards for the metal craps and other vehicle materials that can be used to create breathtaking arts? A lot of creative artists see a brighter view when they are visiting salvage yards because these give them the oomph feeling of knowing that they may be able to complete their projects through these old rusty vehicle parts. So if you think your totaled vehicle is already useless, it is not! Because one way or another, someone is going to make use of those damaged part not just to replace a faulty vehicle but also as a material for something that you have never expected to see.
Recycled art, a form of art that uses old materials, is not only pleasant in the eyes. It also helps save the environment. We all know how damaged vehicles affect the environment as the materials are not easily gone, thus, they remain as craps for quite some time. To provide solution to such problem, it is indeed good to be creative and come up with a good recycled art that you can place on your driveway or you can even sell for thousands of dollars!
If you are looking for materials for your next recycled art project, visit New York City Auto Savage & Glass. We will be very happy to assist.